Plastic Rectangular Tank
Rectangular Storage Tanks
Question: Hello. I am looking for a plastic rectangular tank that I can use as water storage for animals in my barn. I am not sure how many gallons I need, do you know what sizes are available? It should be able to fit through a door.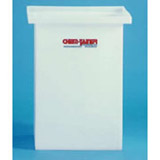 Answer: Thank you for contacting us! We do offer a Rectangular Plastic Tank that can be used for water storage in a wide range of applications and uses. If you are looking for a tank that can be easily stored around your barn location, the best option would probably be tanks that have a height no higher than 18 inches. These tanks do not require the use of a metal stand and be stored around your location without requiring any addition support.
Tanks with these heights range in capacities up to 70 gallons. If you require a tank with more storage thanthis, units can also be built as large as 1800 gallons, but will require added stand support.
Features:
Features found on this rectangular tank have contributed to the successful storage of tanks in both indoor and outdoor applications. Some of the best features include:
Open Top: The open top provides an easy access point for filling tanks with water and other liquids. Fitted lids are also available to add protection to your tank during storage.

Seamless Polyethylene: The polyethylene material holds a natural resistance to several different elements including rust and corrosion. This helps to provide a clean storage area for water so that your water can be stored and then consumed at a different time. In addition, the construction of these tank uses only a single of piece of polyethylene. This means that unlike many other poly tank, these units do not have any seams. This greatly decreases the chance of leaking and small cracks.

Wide Range of Capacities: This plastic rectangular tank also features a wide range of storage capacities varying anywhere from one to 1800 gallons. This has allowed customers to these tanks for a variety of different applications including:

Chemical Mixing

Water Storage

Liquid Fertilizer Storage

Pharmaceutical Storage

Spray Water Supply
Learn More about Plastic Rectangular Tanks

Questions? We can help! Call our team at +1-863-261-8388 or fill out our quote request form to discuss your requirements.