1,000 Gallon Water Trailer for Sale
Argo Water Tank and Trailer with Custom Options
Perfect as a portable water supply tank, or for use as a dust mister, small fire suppression, landscaping, irrigation, or spraying trees or crops, Argo 1,000 Gallon Water Trailers (for sale by GEI Works) are built to your specifications, at a price that will satisfy your budget.
Questions about a water tank and trailer? We can help! Call the GEI Works team at +1-772-646-0597 or fill out our quote request form to discuss your requirements.

Trailer Mounted Water Hauling Tanks for Pickup Trucks & Tractors
Built to last, Argo 1,000 Gallon Water Trailers arrive fully assembled and ready for use. These portable water tank and trailers are also DOT compliant. Features include:
Reinforced Heavy Duty Channel Iron Frame with Rust-Resistant Double Enamel Coat
Tandem E-Z lube axels, rated to 3,500 GVWR each (total rating: 7,000 GVWR)
Radial Tires with E-Z Lube Hubs
Anti-Slip Diamond Tread Fender
DOT-Compliant LED Lights (Front & Rear), Wiring & Connectors
Electric Brakes
Choice of Decking (increases functionality and protects the tank from road damage): Pressure treated wood deck, or optional diamond plated decking
Towing is simple with this trailer mounted water hauling tank pickup trucks and tractors. The 1,000 gallon water trailer comes with a 2-5/6" adjustable ball & pintle ring, a 5/16" heavy duty safety chain, and a 7,000 lb drop foot jack.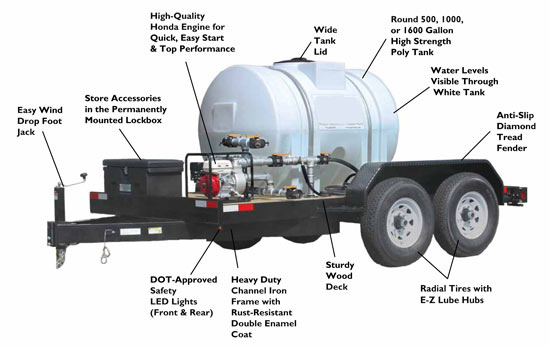 1,000 Gallon Water Trailer: Built to Fit Your Needs
Not only have we designed our 1,000 gallon water tank and trailers to be rugged, durable, and reliable, but also to be flexible in fitting your needs while out in the field or on the job site.
Easy port access. No matter where you stand around the trailer, there is an easy-access port for the water tank within reach. You'll find multiple discharge ports located front, back, and on each side of the water trailer.
3 convenient ways to fill the tank.

Use the port at the top of the tank to manually fill the tank.
Draw water through the quick-fill fitting.
Use the Honda pump to draw water to the tank.

A choice of discharge options to fit the job.

For targeted pressurized spraying, use the fire hose (powered by the Honda Engine & Pump).
For lower volume targeted spray, use the hose bib with a garden hose
For broader coverage, use the galvanized spray bar (provides a 25 foot swath of spray coverage) while towing the tank.
A quick-empty port for the tank is also provided.

Unlimited customization options available. Don't see what you need? Ask us! We'll work with you to build the custom trailer you need for a price you'll love.
For additional information, see the Argo Water Tank Trailer PDF Flyer.
Other Argo Trailer and Water Tank Options
Argo Portable Water Tank and Trailers are also available in other sizes. We also offer a selection of other water tanks, including portable water tanks, corrugated tanks, fiberglass tanks, and more!
Questions about a portable water supply tank? We can help! Call the GEI Works team at +1-772-646-0597 or fill out our quote request form to discuss your requirements.