1,600 Gallon Water Tank and Trailer
Large Capacity Portable Water Tank Trailer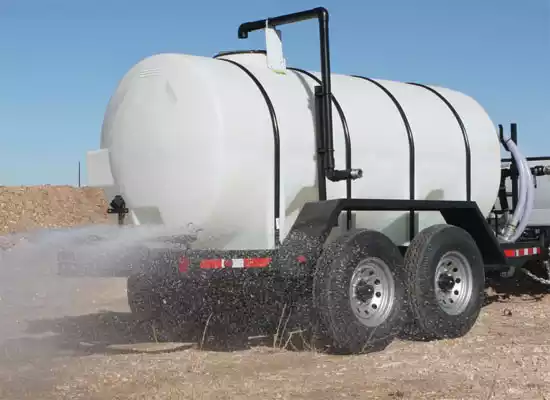 Our 1,600 gallon portable water tank trailers are fully DOT compliant, built to last, and designed to fit your needs in the field. This large water tank and trailer boasts a host of features designed to help you the job get done faster and easier (with custom options also available).
In addition to being affordably priced, portable water supply tanks are delivered fully assembled and ready to be put to work. Call today & put the Water Tank and Trailer to work for you!
Big Benefits at a Surprisingly Affordable Price
The 1,600 gallon portable water tank trailer provides reliable performance you can count on, whether you're using it to supply water for agriculture, landscaping, irrigation, construction, or dust misting. The benefits include:
Large capacity portable water supply tank. This portable water tank trailer carries a GVWR of 20,000 pounds with 1,600 gallon (1,625 gallons to be precise) of water storage capacity. Choose from a variety of tank colors and coatings (including UV treatment and potable water coatings) to suit specific jobsite needs. The standard water tank and trailer option includes a UV-treated, white translucent polyethylene round leg tank, unless otherwise requested.
Safe for use on public roadways. Take this portable water supply tank nearly anywhere. It's rated to pass stringent DOT standards for safe use on roadways, including front, rear and side mounted LED brake lights and electric brakes.
Powered filling and spraying. Quickly and conveniently fill (or empty) the tank with the 5.5 hp Honda engine and 2" Honda pump. Additional engine and pump options are available on request.
3 different ways to fill the tank. For fast filling of the trailer's water tank, use the quick fill kit for use with high pressure water sources or use the fire hydrant adapter. Also included is the suction fill kit (including a strainer for use when filling the water tank from ponds or open water supply sources).
3 different ways to spray. For use as a dust mister, tow the trailer and use the attached galvanized spray bar with brass nozzles. The spray bar provides up to a 25 foot spray swath with each pass. For targeted spraying, use the fire hose and nozzle with the Honda pump. Use the garden hose bib for lower pressure applications.
Sturdy construction. portable water tank trailers are made to last, with a frame of 6" channel iron, 3" channel crossmembers, 3 axels with slipper spring suspension, steel diamond tread fenders with access steps, primed 2-coat enamel finish, and 16" tires on 8 lug silver wheels.
Portable Water Tank Trailer Specifications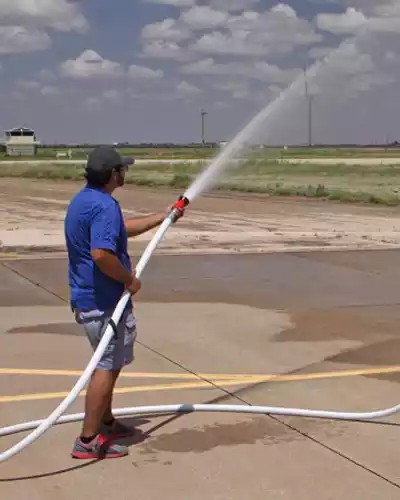 If you're looking for a portable water supply tank and trailer that will provide reliable performance in the field, the water tank trailer is it. We custom build each water tank and trailer to fit your exact specifications and needs, and we guarantee our work.
Additional Options
Deck-Mounted Hose Reels
Additional Tanks
Hose Bibbs
Pressure Hose
Spare Tires
Your satisfaction is important to us. If you need additional functionality, please ask us! We can get you a customized water tank and trailers to fit your needs!
Other Portable Water Tank Trailer Options
Water Supply Tank Trailers are available with a variety of tank sizes. Choose the option that best fits your water hauling needs. You can also buy or replace just the poly leg tank if you do not need the trailer or other components.
To see our full line of plastic water storage tanks, please see: Plastic Water Storage Tanks.
With our range of size options, you can find just what you're looking for! Need help narrowing down your options? Call Us at +1-863-261-8388 or fill out our quote request form to discuss your requirements.