1000 Gallon Water Tank
Potable Water Storage for Outdoor or Indoor Locations
Question:
I need a 1000 gallon water tank. I will be using it for drinking water. I want to store it outside.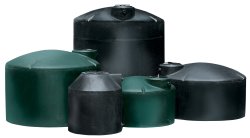 Do you have anything that will work?
Answer: For drinking water storage in outdoor or indoor locations, a great choice would be our Vertical Plastic Holding Tanks. These tanks feature a green tank exterior and are designed specifically for the storage of potable water. Their FDA approved resins keep your water safe for the duration of their storage.
View All Plastic Water Tanks.
1000 Gallon Water Tank Features
These particular vertical water tanks are designed exclusively for the storage of water and have several features that help equip the unit for use in multiple location conditions. Features include:
Green Exterior: This darker exterior is commonly used for drinking water storage, especially in outdoor locations. As opposed to standard poly colors, the green exterior works to prevent the growth of algae inside your tank.
Covered Top: In addition, these tanks feature a closed top design that protects outside elements such as debris and rain from collecting inside your tank. This helps keep your unit safe in outdoor locations.
UV Stabilized: These poly tanks have also been UV stabilized for us in outdoor locations. This extra layer of protection help your tank maintain its strength throughout its storage.
FDA Approved Resin: These tanks feature resins that comply with FDA 21 CFR 177.1520 (1) 3.1 and 3.2, making them safe for the storage of potable water.
1000 Gallon Water Tank Specifications
These vertical tanks come in two different 1000 gallon models. Sizes are as follows:
Other sizes for these tanks range anywhere from 45 to 10,000 gallons.
See all Sizes.
Questions about our 1000 gallon water tanks? We can help! Call our sales team at 1-863-261-8388 or fill out our quote request form to discuss your requirements.