Plastic Drinking Water Tanks
Equipped for Outdoor Storage
Question: Hello. I am looking for plastic drinking water tanks that can store water in an outdoor location. What would you recommend?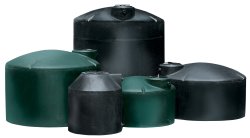 Answer: For potable water storage that will be stored outdoors, we would recommend using the green Plastic Holding Tanks. These tanks are designed specifically for the storage of water and are well equipped to handle outdoor locations.
Depending on the type of storage you require, these water storage tanks can hold anywhere from 45 to 10,000 gallons of water. This is ideal for storing all different sizes of liquid for short term or long-term water storage.
Features:
When compared to some of our other tanks for drinking water, these green polyethylene units have several unique advantages that make the water tank well equipped for potable water storage. These advantages include:
Green Exterior: As opposed to some of our other tanks, the green polyethylene exterior gives your water added protection while in storage. The green exterior actively works to block out light, reducing the chance of algae growth inside your tank
Designed Specifically for Water: This vertical water tank is uniquely designed as a water-only storage tank. This helps to ensure that the tank is the right choice for all your water storage needs.
FDA Approved Resins: The resin for this tank has been built to meet FDA 21CFR 177.1520 (1) 3.1 and 3.2 for the safe storage of potable water.
Outdoor Equipped:
Since you have mentioned that tank will be used in an outdoor storage location, there are several other features included on these plastic drinking water tanks that help equip it for this kind of storage. Some of these features include:
UV Stabilized: The exterior of this tank has been UV stabilized for for use in outdoor locations. In addition to the green exterior, this helps increase the lifespan of your tank.
Closed Top Design: These vertical storage tanks come with an closed top that works to prevent outside elements such as wind, rain, and debris from falling into the tank.
Self-Supporting: As an added bonus, these tanks are completely self-supporting for successful and hassle-free storage.
Learn More about Plastic Holding Tanks