---
Saddle Tanks
Side Mount Tractor Tanks
Hello. I am looking for those saddle tanks you can put on the sides of tractors. Do you have these?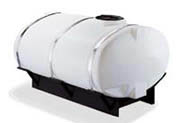 For side mounting water and fertilizer transportation, we offer both teardrop shaped Side Mount Tanks and round Horizontal Plastic Water Tanks. Depending on your preference and/or tractor mounts, either of these tanks could fit securely along the sides of your tractors.
Both of these side mounting tanks are made from the high quality polyethylene material and hold a specific gravity of 1.5. This is high enough to store water, fertilizers, pesticides and several other agricultural substances.
Looking for elliptical tanks? View our full Tractor Water Tank Variety.
Horizontal Tanks
The horizontal tanks feature a standard round storage tank design and can also be mounted easily onto the sides of tractors. These polyethylene tanks have been a favorite for spray operations, watering, and trailer based transportation. Capacities range from 200 to 500 gallons.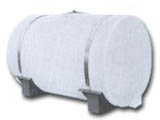 Features Include:
Sump for Complete Drain Out or Cleaning
10" Vented Lid
Band Grooved for Securing to Tractors
Gallon Marker for Fast Viewing of Content Levels
1.5 Specific Gravity
FDA Approved Resin
Questions? We can help! Call our team at +1-772-646-0597 or fill out our quote request form to discuss your requirements.
---