28 Gallon Gas Caddy for Diesel Fuel
Diesel Fuel Caddy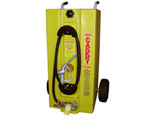 Quick refills and mobile fueling is made easy with a 28 gallon gas caddy. Designed for the storage of diesel fuel, this caddy meets U.S. Coast Guard, DOT, and U.N. standards or specifications for transporting fuel, When used according to fuel transportation guidelines.
These 28 gallon gas caddies come standard with a ten foot hose, spring loaded nozzle, and pneumatic tires. The molded-in baffles prevent build-up while adding strength and durability to the unit. Whether you are fueling small machinery on site, farm equipment, or military vehicles, this little caddy offers reliability combined with convenience. Easy to move, easy to use!
Features:
Diesel Fuel Storage
28 Gallon Capacity
U.N. Marking "UN3H1W"
10 Foot, U.L. Approved Hose
U.L. Approved Spring Loaded Nozzle
3/4" U.L. Approved Ball Valve
Aluminum Non-Sparking Axel
Pneumatic Tires with Nylon Bearings
Nylon Wheel Hubs
Vented Cap
Molded-In Baffle
Benefits:
Meets DOT Requirements
Meets U.N. Specifications
Meets U.S. Coast Guard Standards
Mobile Refueling
Strong, Durable
Optional Pump Kit Available
Typical Plastic Tank Applications:
DOT Jobs
Military
Agriculture
Diesel Caddy Technical Specifications

Dimensions D x W x H

Capacity

22 1/2" x 27 1/2" x 41"

28 gallons

If you will be needing to transfer fuel to some object or location that is above the height of the diesel container, optional pump kits are also available.
Customers Who Viewed This Product Also Viewed:
Questions? We can help! Call our team at 1-863-261-8388 or fill out our quote request form to discuss your requirements.