Caddy Gas Kart
Space Saving Fuel Storage
Gas Kart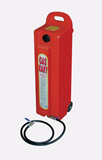 Looking to simplify machinery refueling? A caddy gas kart is your ticket to economical and easy to use fuel storage. Ideal for the frequent fueling of personal watercrafts, boats, ATVs, mowers, and snowmobiles this caddy offers a fifteen (15) gallon capacity. When used according to fuel transportation guidelines the kart meets UN and DOT specifications.
Designed for long lasting performance, these caddies gas karts come standard with polypropylene wheels that are impervious to fuel and temperature variation, a six (6) foot long hose approved for use with fuel, and a molded-in handle for easy transport. Note that an electric pump cannot be used with the Gas Kart, but an optional manual pump is available.
Features:
15 Gallon Capacity
6 Foot Hose
Brass Shut-Off Valve
Polypropylene Wheels
Molded-In Handle
Benefits:
Meets UN Specifications
Meets DOT Specifications
Easy Rolling
Compact
Space Saver
Optional Manual Pump Available (Part Number: 2400-43)
Typical Plastic Tank Refueling Applications:
Mowers
Tractors
Snowmobiles
Snowblowers
Personal Watercraft
Boats
ATVs
Generators
Pumps

Gas Kart Technical Specifications

Part Number

Capacity

15 gallons

Electric Pump cannot be used with this Kart
Customers Who Viewed This Product Also Viewed:
Questions? We can help! Call our team at 1-863-261-8388 or fill out our quote request form to discuss your requirements.