Waste Water Caddy
Portable Waste Removal System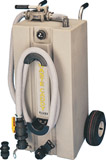 A wastewater caddy offers a simple solution for portable waste removal. Ideal for use with RVs, campers on campsites, or even on remote jobsites, it can easily be transported and rolled to a dump station. The strong pneumatic non-sparking tires keep you safe while on the move. The quick disconnect fitting with shut-off valve helps control the flow and eliminates spillage.
These Portable Wastewater Caddies can hold up to 28 gallons of waste and come standard with a large diameter 10 foot hose. The 3" slide valve opens for evacuation and the molded-in baffles provide structural integrity for long lasting performance. Use the hand operated manual pump to put this unit into motion. Evacuation Kit Available.
Features:
28 Gallon Capacity
Pneumatic Non-Sparking Tires
Vented Cap
Ten (10) Foot Hose
3" Slide Valve for Evacuation
Molded-In Baffle
Molded Hose Holders
Hand Operated Manual Pump
Benefits:
Large Diameter Hose
Strength and Durability
Proper Threads on Intake Hose for Standard Deck Fittings (1 1/2" or 1 1/4")
Quick Disconnect Fitting
Shut-Off Valve
Typical Plastic Tank Applications:
RVs
Campers
Campsites
Remote Job Sites
Emergency/Humanitarian

Waste Caddy Technical Specifications

Dimensions D x W x H

Capacity

22 1/2" x 27 1/2" x 41"

28 gallons
Customers Who Viewed This Product Also Viewed:
Questions? We can help! Call our team at 1-863-261-8388 or fill out our quote request form to discuss your requirements.