RV Portable Waste Water Tank
Waste Water Caddy
Question: I am looking for a portable RV wastewater tank. I need it to be easy to transport so I can use it on my camping trip. Do you have anything like this?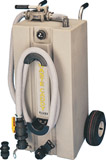 Answer: For wastewater storage during camping trips and on RVs, a great option is our Waste Water Caddy. This portable tank comes with wheels, hoses, slide valves, pumps, and more so your wastewater storage is as easy and hassle-free as possible. Built with easily transported handles, this caddy has been used on RVs, campers, remote job sites, and even during emergency and humanitarian relief efforts.
Features
This portable caddy includes several features that help to provide you with a place for wastewater storage as well as a unit that can be easily emptied. Features for this caddy include:
28 gallon storage capacity
10 Foot Hose to pump and discharge water
3" Slide Valve for easy evacuation

Evacuation Kits are also available

Manual Pump, hand operated
Pneumatic non-sparking tires for smooth transportation
Shut-off Valve to help prevent overflow and spillage
In addition, each caddy also contains:
Vented Cap
Molded-in Baffle
Molded Hose Holders
Quick Disconnect Fitting
Intake Hose threads fit Standard Deck Fittings (1 1/2" or 1 1/4")
Dimensions:

22 1/2" Depth
27 1/2" Width
41" Height
Benefits
Some of the many benefits found when using this wastewater caddy include:
Portable: With pneumatic tires, these caddies can be easily transported with you for wastewater storage and then rolled to a dump station for easy evacuation.
Hose, Pump, & Valves: These help to increase the value of your unit by providing an easy way to clean out and use your caddy.
Questions? We can help! Call our team at +1-863-261-8388 or fill out our quote request form to discuss your requirements.