Horizontal Leg Tanks
Reliable Plastic Tanks
Question: I am looking for horizontal leg tanks that I can use as a potential water storage solutions. I need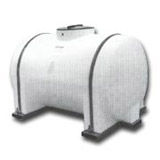 something that can hold between 50 and 100 gallons. What are my options?
Answer: For the storage capacity and specifications you have mentioned, a great option would be our Round Horizontal Storage Unit. Constructed from a reliable polyethylene material, these are made with a horizontal design and molded in legs to provide you with a stable, reliable liquid storage container. Standard tanks are made with capacities ranging from 15 to 1300 gallons, including several 65 gallon models that could work for your storage range.
For additional plastic tank models please view our complete Plastic Water Tank Variety.
Features:
Since these horizontal units contain a low profile and remain completely self-supporting, they are a common choice for portable water storage around nurseries, job sites, or other agricultural locations. Features for these tanks include:
Polyethylene Exterior for high resistance to rust and corrosion
Seamless Construction to avoid cracks or leaks
UV Stabilization for outdoor locations
FDA Approved Resin
(complies with FDA 21 CFR 177.1520 (c) 3.1 and 3.2)
High Impact Resistance
Molded in Legs for increased stabilized liquid storage
Multiple Capacities: Ranges from 15 to 1,300 gallons
Standard Vented Manway (non-vented and hinged manways also available)
Two Series Options:

Commercial Series (LC): Specific Gravity of 1.5 at 73° F
Industrial Series (LA): Specific Gravity of 1.9 at 73° F

Available Steel Platforms and Straps
Benefits:
Made with reliable exteriors, there are several advantages customers find when using these tanks. Some of these advantages include:
Seamless Poly Construction: The polyethylene material is a highly resistant material that has been used to store water, chemicals, and various agricultural products. In addition, they are made using only a single piece of polyethylene to avoid crack, leaks, or splits along seam lines.
Stable Design: As with many horizontal leg tanks, these units are designed for stable and reliable non-DOT transportation. Tanks include built-in legs, and available platforms and straps. Larger tanks (525-1625 gallons) are also equipped with anti-surge baffles for increased stabilization.
More about Plastic Water Tanks