Plastic Cone Bottom Tanks
Cylindrical Cone Tanks
Question: Hi. I am looking for plastic cone bottom tanks with open tops. I need to store 2000 liters. Do you have anything?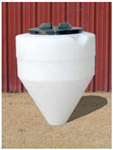 Answer: For storage and draining, there are several Cylindrical Cone Tanks that could help with the amount of liquid you need to store. All of our cone tanks are built from either a polyethylene or polypropylene material to help hold up to all your chemical mixing, storing or draining requirements.
Tanks with FDA approved resins are also available for beer or wine fermenting.
Features:
Capacities for the cone bottom tank range anywhere from small 5 gallons tanks to larger 2500 gallon tanks. For the storage of approximately 2000 liters, you could choose from the closest compatible capacities of either 500 gallons (TC5264) or the 750 gallons (TC6258).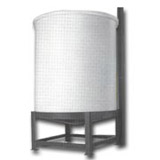 Features for these tanks include:
Capacities: 5 gallons to 2500 gallons
(19 liters to 9463 liters)
Open Top
Cone Bottom
Heavy Wall Construction
Material Options:

Linear Polyethylene: Maximum Operating Temperature of 140° F
Polypropylene: Maximum Operating Temperature of 212° F
FRP Encased models also available

Accessories:

Covers including standard polyethylene, hinged, and bolted
Steel Support Stands (designed to match the capacity of the tank)
Benefits:
There are several benefits offered by this tank that help to create a safe and easy chemical mixing and storage area. Some of these benefits include:
Many Different Capacities: When using a cone bottom tank, draining and mixing needs can vary. Some customers might be looking for smaller inductor tanks (start at 5 gallons), while others may be looking for larger tanks to mix large quantities. Having a large range of capacities helps to meet all needs.
Seamless Construction: The polyethylene cone tanks are made using only a single piece of polyethylene. This means there are no seams for leaking or cracking. This construction also provides a smooth inner wall so materials can flow swiftly out of the tank.
Learn More about Plastic Conical Tanks

Downloads
100 gallon Stand Drawing (PDF)
125 gallon Stand Drawing (PDF)

Questions? We can help! Call our team at +1-863-261-8388 or fill out our quote request form to discuss your requirements.