Plastic Conical Tanks
Cylindrical Cone Bottom Tank with Steel Stand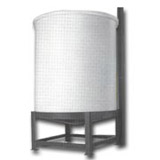 These Plastic Conical Tanks feature a cylindrical shape, open top, and cone bottom design that provides you with easy pouring, mixing, storage, and emptying of tank.
Constructed with either linear polyethylene or polypropylene, these cone shaped tanks have a high resistance to a variety of chemicals as well as a resin that complies with U.S. FDA Regulation 177.1520 (c) 3.1 and 3.2. This allows this tank to be used not only for the mixing and storageof chemicals, but also for various other food products like mixing or temporarily storing wines.
Covers for these tanks are available if your materials need to be protected. Regardless of your application, this is a storage tank that can meet your needs!
Features:
Open Top
Cone Bottom
Steel Stands Available
Heavy Walls
Benefits:
Easy to Fill and Mix Chemicals within the Tank
Drains Smoothly
Walls Provide Long-Lasting Use
Seamless Construction to Limit Cracks or Leaks
Resistance to Rusting and Corroding
Can be Used in Many Applications
Typical Plastic Tank Applications:
Mixing Chemicals
Temporary Storage of Chemicals that will Later be Drained
Wine Mixing and Storage

Plastic Conical Tank Technical Specifications

Capacity (gal)

Size in Inches
(dia x height)

5
11 x 13
10
15 x 17
15
15 x 19
30
18 x 29
55
22 x 36
75
30 x 24
100
34 x 36
125
42 x 22
200
31 x 65
250
42 x 46
350
42 x 60
500
52 x 64
750
62 x 58
1000
66 x 72
1000
84 x 48
1350
86 x 70
1500
73 x 84
2000
80 x 86
2500
86 x 118
Material Options

CA Series--Linear Polyethylene: Maximum Operating Temperature of 140°
CB Series--Polypropylene: Maximum Operating Temperature of 212°

Tank Covers
AF Series--Polyethylene Covers
AH Series--Polyethylene Hinged Covers
FH Series--Heavy Duty Polyethylene Hinged Covers
EF Series--Bolted Polyethylene Covers
Downloads
100 gallon Stand Drawing (PDF)
125 gallon Stand Drawing (PDF)

---
Read answers to customer questions about:
Customers Who Viewed This Product Also Viewed:
Questions? We can help! Call our team at 1-863-261-8388 or fill out our quote request form to discuss your requirements.