Cone Bottom Plastic Tanks
Cylindrical Tank with Built-in Poly Stand
Cylindrical Tank with Built-in Poly Stand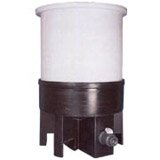 Tired of cone bottom plastic tanks that require a separate stand? These cylindrical tanks can help! Rather than using the support of a steel stand that is supplied separately,these units come with a built-in stand made entirely of polyethylene.
Equipped with all the advantages of polyethylene, these tanks offer a high resistance to a variety of chemicals as well as to rusting and corroding. This can provide you with a longer lasting tank that is supported and drainable.
The standard version of this tank is made with an open top for easy mixing and pouring of chemicals. If your materials require a more enclosed storage, covers to fit these tanks are also available.
Features:
Build-in Polyethylene Stand
Cone Bottom Design
Open Top
High Corrosion Resistance on both the Stand and Tank
Benefits:
Easy to Pour Materials into the Tank
No Steel Stand to Corrode or Rust
Drains Swiftly
Light in Weight
Requires Less Maintenance
Extra Stand Not Needed to Support Cone Tank
Typical Plastic Tank Applications:
Chemical Mixing in Various Facilities
Temporary Storage of Chemicals that will Later be Drained
Cone Bottom Plastic Tank Technical Specifications
Capacity (gal)

Size in Inches
(dia x height)

10

15 x 28

15

15 x 30

30

18 x 40

55

22 x 47

75

30 x 35

100

30 x 48

125

42 x 35

200

31 x 75

250

42 x 57

350

42 x 70

Material Options

AP Series--Polyethylene
BP Series--Polypropylene

Tank Covers

AF Series--Polyethylene Covers

AH Series--Polyethylene Hinged Covers

FH Series--Heavy Duty Polyethylene Hinged Covers

EF Series--Bolted Polyethylene Covers

Customers Who Viewed This Product Also Viewed:
Questions? We can help! Call our team at 1-863-261-8388 or fill out our quote request form to discuss your requirements.