Plastic Cone Tanks
Cone Storage Tanks For Storage of Liquids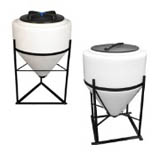 These Plastic Cone Tanks have the shape and material structuring to provide you with a tank that will support your materials with limited wear and tear.
Equipped with a polyethylene construction, these tanks have a high resistance to variety of different chemicals makes them a versatile storage option.
Not sure if this tank can handle your material? Please feel free to give us a call! We are committed to helping you find the perfect storage tank with all the right fittings, so there's no hassle or confusion.
Features:
Fittings: 2" Standard Fittings
Manways
Manways
2" Standard Fittings
UV Stabilized
Polyethylene Construction
Cone Bottom
Benefits:
Safe for Storing Potable Water
Black Exterior Helps Prevent the Growth of Algae
Can Safely Store Chemicals
Capable of Handling Outdoor Elements
Cone Bottom Helps Facilitate a More Thorough Cleaning
When used with Trailer, Transports Easily Around Your Area
Typical Plastic Tank Applications:
Portable Water Around Job Sites or Agricultural Areas
Portable Fertilizer
Chemical Storage

Plastic Cone Tank Technical Specifications

Capacity

Dimensions (dia. x L)

Manway

Fitting

15
19" x 23"
8"
2" outlet
15
24" x 21"
16"
2" outlet
30
24" x 28"
16"
2" outlet
35
23" x 29"
8"
2" outlet
60
31" x 32"
16"
2" outlet
60
24" x 42"
16"
2" outlet
75
33" x 43"
22"
2" outlet
80
32" x 37"
16"
2" outlet
100
33" x 50"
22"
2" outlet
150
33" x 66"
22"
2" outlet
Read answers to customer questions about:
- Mixing and disbursing glue in a plastic cone bottom tank
Customers Who Viewed This Product Also Viewed:
Questions? We can help! Call our team at 1-863-261-8388 or fill out our quote request form to discuss your requirements.