Plastic Cone Bottom Tank
Cone Mixing Tanks
Question: Hello. I am looking for a plastic cone bottom tank. I'm going to use this tank to mix glue and then let it run into another tank below. Do you have anything?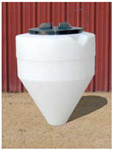 Answer: Thank you for contacting us! We actually offer several different cone bottom tanks that could work well for the application you described. Depending on your needed capacity, different tanks might work better in your specific location.
Typically for mixing application, the smaller Plastic Cone Tanks are an ideal choice. These tanks feature a steep cone angle (around 60°) and have smaller capacities for placement on top of other tanks. As with most of our plastic tanks, these units are made from a polyethylene material that offers a high resistance to several chemicals as well as rust and corrosion.
Features:
These plastic tanks are created with several features that are designed to offer a high resistance to chemicals rust and corrosion. Features commonly found on these tanks include:
Polyethylene Construction
1.5 Specific Gravity
UV Stabilized Exterior
High Resistance to Chemicals
High Impact Resistance
Black Exterior Available for Outdoor Use
These cone bottom tanks come in several different capacities to help meet individual storage requirements. Capacities for the plastic cone bottom tank above include a 15 gallon and 30 gallon tank which feature a 60° cone angle. If you are looking for a tank with a less steep, we also offer a 3000 gallon cone bottom tank that has only a 30° for larger capacities.
Other Cone Tank Options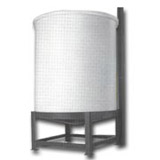 Another great option for large capacity storage is the Open Top Cone Bottom Tank. These open top units are placed on steel stands and have capacities that range from 5 to 2500 gallons. Features include:
Open Top for Easy Mixing
Steel Stands
Cone Bottom for Fast Draining
Polyethylene or Polypropylene Construction
Versatile Mixing Options
These tanks are also available with in a model that contains a built-in polyethylene stand. As opposed to the first model, have an included poly stand can increase the tanks resistance to rust and corrosion. For more chemical storage and mixing tank options, please check out our complete Chemical Plastic Tanks Variety.

Downloads
100 gallon Stand Drawing (PDF)
125 gallon Stand Drawing (PDF)

Questions? We can help! Call our team at +1-863-261-8388 or fill out our quote request form to discuss your requirements.