Double Wall Tanks
Plastic Tanks for Durable Storage
Assortment of Sizes
These Double Wall Tanks are quality plastic tanks that are designed with dual walls to provide you with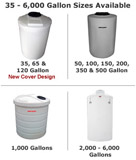 more efficient and lasting storage of your materials.
With an secondary tank wall that complies with 40CFR-264.135, these double wall tanks cansafely store hazardous or potentially harmful materials and prevent them from entering the environment. Additionally, their enclosed top design keeps stored materials safe and prevents necessary liquids, such as rain or snow, from entering the tank an causing it to overflow.
Made from polyethylene, a material high in resistance to impact, chemicals, rusting, and corroding, these tanks are safe and efficient units for storing all your materials.
Features:
Shaped Differently Depending on Their Size
Primary Tank Completely Contained
Enclosed Top
Outer Containment Complies with Federal Regulation 40CFR-264.193
Benefits:
Can be Used Indoors and Outdoors
Helps to Keep you in Compliance
Saves Floor Space
Blocks Outside Elements from Entering into the Tank
Second Layer of Protection
Also Capable of Storing Fuel
Typical Plastic Tank Applications:
Storage of Hazardous Materials
Fuel or Oil Storage

Double Wall Storage Tank
Capacity (gal)
Size in Inches
(dia x height)
50
27 x 38
100
35 x 39
150
34 x 48
200
41 x 52
350
52 x 56
500
59 x 71
1000
74 x 85
2000
86 x 156
3000
120 x 138
4000
120 x 165
5000
120 x 181
6000
120 x 204

Standard Versions of these Tanks come with a Vented Manway, Non-Vented or Hinged Manways are also Available

Customers Who Viewed This Product Also Viewed:
Questions? We can help! Call our team at +1-863-261-8388 or fill out our quote request form to discuss your requirements.