Plastic Water Tanks Prices
Rectangular Transport Tank
Rectangular Transport Tank
Plastic water tanks prices are important, but how important compared to the benefits and usefulness of the tank? To be sure, this rectangular transport tank doesn't disappoint! Made from linear polyethylene and UV Stabilized,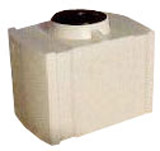 it offers a long life of durability and performance.
The low-profile design and rectangular shape save space whether you are storing or transporting. Ideal for pick-up trucks, it does not require any strands or cradles for support. It does, however, have molded-in slots for tie down straps. The resin used in manufacturing is FDA compliant for the storage of potable water and with all these benefits, it comes with economical plastic water tank prices!
Features:
Linear Polyethylene Construction
Low-Profile Design
Molded-In Slots for Tie-Down Straps
Rectagular Shape
UV Stabilized
8" Manway
Benefits:
Typical Plastic Tank Applications:
Transportation
Potable Water Storage
Pick-Up Trucks
Campsites, Farms, RVs

Looking for Pricing on these Plastic Tanks? Check out our Web Store!
Transport Tank Technical Specifications

Part Number

Capacity (gal)

Dimensions in Inches (L x W x H)

25

24 X 17 X 19

55

42 x 26 x 16

75

42 x 26 x 18

100

42 x 26 x 26

320

60 x 60 x 32
Questions? We can help! Call our team at +1-772-646-0597 or fill out our quote request form to discuss your requirements.
---