Plastic Transport Tank
Water Transport Tanks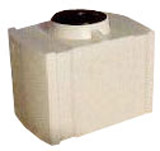 Question: Hi, I am looking for plastic transport tanks that can be placed in the back of vehicles. I am looking for a couple of tanks that can store at least 100 gallons each. Do you have these kind of tanks?
Answer: For the type of storage you require, a great choice is the Plastic Rectangular Water Tank. These polyethylene units are designed for transportation and feature a self-supporting rectangular design that can easily be placed in the back of vehicles for fast transportation. Equipped with FDA approved resins, these tanks are often used for drinking water storage.
Questions? We can help! Call our team at 1-863-261-8388 or submit a form.
Features
Polyethylene Construction:
Like many of our plastic water tanks, these units are built with a linear polyethylene design that holds water safely and limits the chance of leaking. This material offers a high resistance to rust and corrosion so your water storage can be long-term and economical.
Rectangular Shape:
The rectangular design of this tank creates a flat bottom and sturdy sides that require no cradles or supports. This makes transportation easy and has allowed the tank to be used in the back of pickup trucks, ATVs, RVs, and more.
Molded-in Slots:
While not required for transportation, these tanks do contain molded in slots that create a specified spot for tie down straps. This makes extended transportation easy and allows straps to stay firmly in place.
Several Available Capacities:
These tanks are made in several sizes including a 100 gallon model. Tanks are constructed as small as twenty-five gallons (25 gallons) and as large as 320 gallons. If you require additional sizes, please feel free to view all plastic water tanks.
Tanks are also UV stabilized to protect them in outdoor storage locations. Learn More
Questions? We can help! Call our team at 1-863-261-8388 or fill out our quote request form to discuss your requirements.