---
Plastic Water Transport Tanks
Hello. I am looking for plastic water transport tanks that I can place in the back of my pickup truck.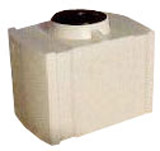 Do you have anything for this?
Thank you for contacting us! For self-supporting water storage and transportation, there are several options you could consider. Two of the most commonly chosen products for this type of application is our Pickup Truck Tanks and our Plastic Transport Tanks. Both of these plastic water tanks are designed specifically for transportation and do not require additional support.
View more Plastic Water Tanks
Pickup Truck Tanks
The pickup truck tank is a uniquely built plastic unit that is designed for use in the back of pickup trucks, trailers, and ATVs. They have successfully been placed in both mini and full sized pickup trucks and provide a low profile for increased rear-view vision.
Features found on these pickup truck units include:
UV Stabilized: For use in outdoor conditions, tanks are UV stabilized.
Low Profile: The lower profile on this tank allows it to be used in the back of pickup trucks without completely blocking the rearview of the driver.
FDA Approved Resin for Potable Water
Available Capacities:

210 gallons (fits both full size and mini pickup trucks)
325 gallons
425 gallons
Rectangular Transport Tanks
Another great choice for transportation is the rectangular transport tank. These rectangular plastic water transport tanks have a low profile, flat bottom, and completely stable structure for long-term use and performance.
Features for this rectangular tank include:
Rectangular Design: The rectangular design of this tank gives the unit a low profile and allows it to be used transported without any cradles or saddles.
UV Stabilized: The UV stabilization works to increase the lifespan and versatility of this plastic tank.
Molded-in Slots: In the event that you wish to provide extra stability for your tank during transportation, each tank has molded in slots for placing bands.
FDA Approved Resin for Potable Water
See More Plastic Water Tanks
Questions? We can help! Call our team at +1-772-646-0597 or fill out our quote request form to discuss your requirements.
---