Vertical Water Tanks
Green Exteriors for Algae-Resistant Water Storage
Question: I am looking for vertical water tanks to store an emergency supply of drinking water. Do you have these tanks? Which is best for drinking water?
Answer: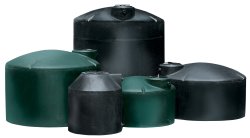 For drinking water storage, a great choice is our Vertical Plastic Holding Tank. These tanks are designed specifically for water storage and come in sizes ranging anywhere from 45 to 10,000 gallons. They have been used to store drinking water around homes, businesses, industrial facilities, and more.
Typically when storing drinking water, the most recommended choice is a tank with a darker exterior, such as black or green. These tanks are less likely to allow light to pass through your tank, reducing your risk of algae growth inside the tank.
Advantages of the Vertical Tank
Green Exterior: Reduces light exposure to prevent algae growth
FDA Approved Resin for safe potable water storage
UV Stabilized: In addition to a green exterior, these tanks are further equipped for outdoor storage through this UV stabilization. This can help you store your tank in outdoor locations.
High Rust, Corrosion, and Impact Resistance
Typical Uses for this Vertical Tank
Residential Emergency Water Supply
Industrial Drinking Water Supply
Spring Water Collection
Water Collection Later Used for Drinking Water
Long-Term Water Storage
Standard Features Found on Most Vertical Tanks
Threaded Inlets and Outlets
Vented Twist Entry
Polyethylene Construction
Dome Top
Closed Top
FDA Approved Resin
Questions? We can help! Call our team at +1-863-261-8388 or fill out our quote request form to discuss your requirements.