Underground Plastic Water Holding Tanks
Underground Potable Water Cistern Tank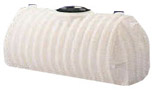 These plastic water holding tanks are manufactured from linear polyethylene with a one-piece seamless construction. The rugged, ribbed design offers superior strength for underground installation. Suitable for potable water, this cistern is manufactured with resin that complies with the FDA 21 CFR 177.150 (c) 3.1 and 3.2 Regulation.
Ideal for vacation homes, resorts, campgrounds, and construction sites, this plastic water holding tank is lightweight and easy to both transport and install. The self-locking cover keeps your water safe while stored.
Our friendly staff is here to help you get the exact tank you need!
or Contact us for additional information.
Underground Water Storage Tank
Technical Specifications

Capacity (gal./L)
Dimensions (in/m)
325/1230.26
54D x 51 (1.4D x 1.3)
550/2082
64D x 64 (1.6D x 1.6)
600/2271.25
101 x 51 x 58 (2.6 x 1.3 x 1.5)
1000/3785.4
86 x 65 x 68 (2.2 x 1.7 x 1.7)
1200/4542.5
102 x 60 x 58 (2.6 x 1.5 x 1.47)
1250/4731.8
86 x 76 x 68 (2.2 x 1.9 x 1.7)
1700/6435.2
143 x 55 x 66 (3.6 x 1.4 x 1.7)
Features:
Linear Polyethylene
One-Piece Seamless Construction
Ribbed Design
Self-Locking Covers
Store Potable Water
Vertical or horizontal orientations

Benefits:

Typical Plastic Tank Applications:
Campgrounds
Resorts
Vacation Homes
Construction Sites
Customers Who Viewed This Product Also Viewed:
Questions? We can help! Call our team at 1-863-270-8118 or fill out our quote request form to discuss your requirements.