Rectangular Water Tanks Plastic Model
Versatile Rectangular Water Tank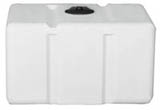 Rectangular water tank plastic models are extremely versatile. They have been used for applications from stationary storage to power washer tanks. The resin used in manufacturing is FDA approved for potable water. The tank has been UV stabilized to withstand the natural weathering that occurs when stored outside. You can also choose to have the tank in the black color, rather than natural white, which prevents the growth of algae in the water.
Rectangular Water Tank Features
Polyethylene Construction
UV Stabilized Exterior
FDA Approved for Drinking Water
Rectangular in Design
Rectangular Water Tank Benefits
FDA Approved Resin for Potable Water
High Impact Strength
Rated for Chemicals and Liquids
Equipped for Outdoor Use
Typical Plastic Tank Applications
Potable Water Storage
Pest Control
Spray Tank
Pressure Washers

Rectangular Water Tank Technical Specifications

Capacity

Size (W x L x H)

Manway

Fittings

500
92" x 48" x 31"
-
-
50
41" x 27" x 17"
8 "
No Fitting
100
41" x 27" x 30"
8 "
No Fitting
200
48" x 36" x 29"
8 "
No Fitting
300
63" x 42" x 30"
8 "
No Fitting
Customers Who Viewed This Product Also Viewed:
Questions about rectangular water tanks? We can help! Call our team at 1-863-261-8388 or fill out our quote request form to discuss your requirements.