Applicator Tanks
Plastic Watering Tanks
Question: (Texas) I am looking for applicator tanks that I can use around my farm. Is this something that you supply?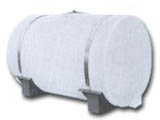 Answer: We do offer several plastic tanks styles have been used as an applicator tank. Some of the most popular models include the horizontal tank with sump, the low profile elliptical tanks, and the rectangular transportation tanks.
Designed to provide you with flexibility and long-term use, these tanks have been molded from the polyethylene material for high resistance to several different materials. This has allowed them to be used for:
Agricultural Watering
Fertilizing Crops
Watering Livestock
Spray Applications
Due to its ability to hold several different materials, tanks are often washed and used for multiple different liquids.
Horizontal Tanks with Sumps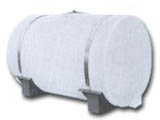 The Horizontal Water Tanks features a round design that mounts easily to the front and sides of tractors. Specs on this tank include:
1.5 Specific Gravity for water and fertilizers
Band Grooves for securing to vehicles
Sump for fast draining
Gallon Marker for fast content level gauging
FDA approved resin
Elliptical Tanks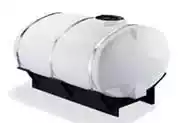 As opposed to the horizontal unit, the Elliptical Tank features a more elongated shape and a lower profile. This has helped it to store larger capacities. It is also a favorite for placement on the front of the tractors without restricting the driver's view.
Black or White models available
Sump for full and complete draining
Carefully placed fill well for added safety and storage convenience
1.5 Specific Gravity
Molded Grooves for placing bands
Transport Tanks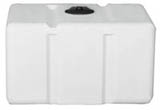 The Rectangular Tanks feature a compact rectangular design that makes them easy to transport around different locations. Their easy-to-manage shape as made them a favorite for small spot spraying jobs, pressure washing and pest control.
Self-Supporting Rectangular Shape
Easy to Manage
Fits on pickup trucks
Black or White exterior tanks available
See more Applicator Plastic Tanks.
Questions? We can help! Call our team at +1-863-261-8388 or fill out our quote request form to discuss your requirements.