---
Water Storage Tanks Plastic Elliptical Model
with FDA Approved Resin
Polyethylene Elliptical Tank
Looking for water storage tanks plastic and elliptical? These tanks are just right for you! The resin used to manufacture the tanks is approved by the FDA for potable water storage. The UV stabilizer and polyethylene construction boast a long life for a water storage tank plastic,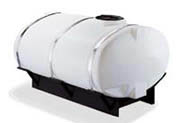 while the sump allows for superior cleanout and drainage.
The fillwell is located at either the front edge of close to the end of the tanks for convenient filling and servicing. Fitting for suction, return, and agitation and quickfill can be installed at either the end of the tank or in the sump. The elliptical design offers better visibility, when mounted, and a low center of gravity, especially compared to other round tanks of similar size.
Features:
Polyethylene Construction
1.5 Specific Gravity
Low Center of Gravity
Multiple Capacities and Sizes
Benefits:
High Impact Stength
UV Stabilized
Excellent Clean-Out Through Sump
Better Visibility (when mounted)
Low Center of Gravity
Typical Plastic Tank Applications:
Agricultural Use
Industrial Use
Sprayer Tank
Nurse Tank
Potable Water Storage


Looking for Pricing on these Plastic Tanks? Check out our Web Store!
Elliptical Tank Technical Specifications

Part Number

Capacity

Sizes (W x L x H)

41252
200
40" x 66" x 30"
40327
300
48" x 70" x 36"
40328
500
57" x 82" x 44"
40329
750
69" x 88" x 48"
40330
1000
78" x 90" x 55"
47111
1600
78" x 138" x 54"
47677
2550
88" x 142" x 82"
Questions? We can help! Call our team at +1-772-646-0597 or fill out our quote request form to discuss your requirements.
---