Lawn & Garden Tank
Store. Transport. Spray.
Ideal for Lawns and Gardens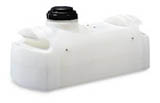 Looking for a versatile plastic rainwater tank? Not only can this polyethylene unit be free standing, but it can also be mounted in a truck, trailer, and even behind a four-wheeler! Ideal forsmall jobs in the garden or for the lawn, it can be set up as a Spot Sprayer with a variety of electric pumps. It offers the added convenience of a hose wrap molded into the tank, keeping appropriate supplies together.
Each spot sprayer features a range of design components that equip the tank for use in spray situations. Features include threaded inserts for mounting to transportation vehicles, as well as molds for hands, guns, and pumps. All sprayers are designed for non-DOT regulated transport applications.
| Capacity | Dimensions (W x L x H) |
| --- | --- |
| 14 | 31" x 14" x 15" |
| 25 | 36" x 18" x 18" |
*Special Trailer Available
**Availabel on a 3 Point Carrier (PTO Pump) with a Boom or Broadcast Sprayer Nozzle
Features:
High Resistance Polyethylene
Bottom Threaded Inserts for Mounting
Molde
Benefits:
FDA Approved Resin for Potable Water
Keeps Spraying Hose Attached to Tank
UV Stabilized for Outdoor Weathering
High Impact Strength
Easy to Mount on Vehicles
Diesel Crosslinked Resin Model Available
Optional Sump Available
Typical Plastic Tank Applications:
Rainwater Storage
Lawn and Garden
Farm Fields
Residential Sprayer Use
Commercial Sprayer Use
Transport

Customers Who Viewed This Product Also Viewed:
Questions? We can help! Call our team at 1-863-261-8388 or fill out our quote request form to discuss your requirements.