Horizontal Leg Poly Tank
Portable Poly Tanks
Question: (Florida) I am in need of a horizontal leg poly tank that I can transport around my farm. Do you have these? If so, what can I store in this type of tank?
Answer: We have a variety of different horizontal leg poly tanks that could be easily transported around your facility. Depending on the amount of liquid you need to store, you can choose from any of the following tanks for either water or chemical storage.
Standard Horizontal Leg Tank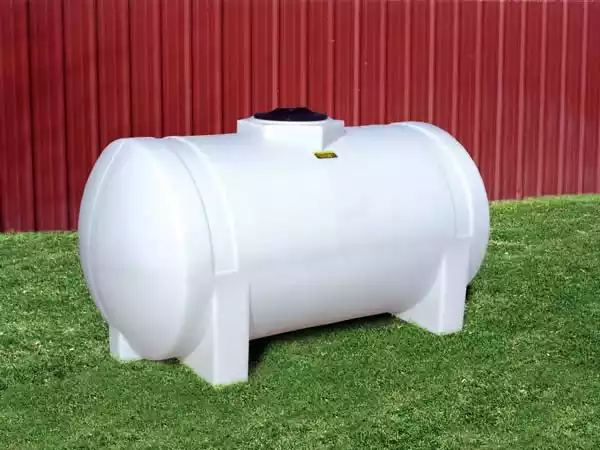 The standard horizontal leg tank is designed to offer you standard storage of your materials and has the following features:
Standard Capacity: 125 to 800 gallon
No saddles required for support
Mounts easily
Materials Commonly Stored:

Agricultural Fertilizers
Drinking Water (Algae resistant black model available)
Spraying Water
Liquid Chemical Solutions

Molded grooves for securing tank with bands
Small Capacity Leg Tanks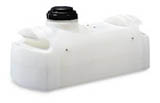 For smaller jobs or applications, this plastic lawn and garden tank can be a great choice. It has some of the following features:
Small Capacity: 15, 25, 50, or 100 gallons
Molded area for a hose wrap makes them ideal for use as a spray tank
FDA approved resin for potable water
Mounts easily to vehicles and trailers
Can be bolted to a base or skid
Also available in a diesel compatible model
Large Capacity Elliptical Leg Tanks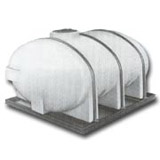 For large capacity liquid storage, an elliptical leg tank can be a great choice. This tank offers all the standard advantages of a leg tank but provides more storage capacity for larger jobs.
Large Capacity: 200 to 4035 gallons
Mounts to skid for easy non DOT transportation
Available in 2 models:

Industrial grade: 1.9 specific gravity for heavy chemicals or solutions
Commercial grade: 1.5 specific gravity for water and other lighter chemicals and materials

Often used for the following storage materials:

Potable water
Fertilizer tank
Water storage and transport around jobs, sites and locations
To view more options for this kind of liquid storage, please feel free to browse through our complete Plastic Water Storage Tank or Chemical Storage Tank variety.
Questions? We can help! Call our team at +1-863-261-8388 or fill out our quote request form to discuss your requirements.