Open Top Plastic Storage Tank
Cylindrical Open Top Tank
Question: I want an open top plastic storage tank with a minimum of 30 gallon storage capacity. We need to store a brine solution. Do you have any tanks suitable for this application?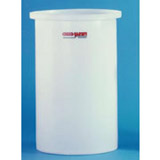 Answer: Thank you for contacting us! For the storage of brine and various other chemical solutions, the Open Top Cylindrical Tank is a great choice. These tanks feature an open top design that allows chemicals and various other liquids to be easily placed and/or mixed inside the tank. These cylindrical tanks are built with a flat bottom that allows the storage unit to remain completely self-supporting during your liquid storage process.
Similar to other tanks located on this site, these units are constructed from polyethylene material that offers a high resistance to several different chemicals.
Features:
Built for durability and strength, these open top cylindrical tanks are the perfect way to store and mix chemicals. All tanks contain an open top, flat bottom design to offer a self-supporting tank that can safely store your materials. Features on these cylindrical tanks include:
Open Top
Flat Bottom
Polyethylene or Polypropylene Material

Polyethylene: Maximum Operating Temperature 140° F
Polypropylene: Maximum Operating Temperature 212° F

Self-Supporting Structure
Heavy Wall Construction
Single Piece Polyethylene Construction
FDA Approved Resin
Covers Available
The cylindrical plastic tank is designed for ease of use, flexibility and convenient storage. It often features a self-supporting design that allows for tanks to be completely secure in their storage ability.
Benefits:
Benefits found during the use of this open top plastic storage tank include several different qualities that provide for the storage of acids, caustics, fertilizers, chemicals, and even potable water. In addition, sizes for these tanks range anywhere from 5 to 6800 gallons.
Open Top Structure: The open top structure has allowed for materials to be quickly placed into the unit. It also provides for easy mixing.


Self-Supporting: These tanks are designed to remain completely self-supporting so materials can be stored in your location without worry or concern.


Several Cover Options: Several covers are additional available for use with this tank including standard hinged, bolted, and fitted covers.
Learn More about Open Top Plastic Tanks.
Questions? We can help! Call our team at +1-863-261-8388 or fill out our quote request form to discuss your requirements.