---
Open Top Plastic Tanks
Cylinder Open Top Flat Bottom Tanks
Cylinder Open Top Flat Bottom Tanks
Looking for cylindrical open top plastic tanks? You've come to the right place! These open top flat bottom tanks are the perfect unit for storing chemicals, fertilizers and even potable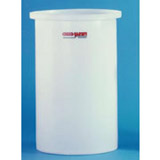 drinking water.
Made with thicker walls that provide a sturdy and lasting exterior, these cylindrical open top plastic tanks are equipped to handle chemicals as well as some acids and caustics. Supplying you with the most efficient tank possible, these units contain not only an open top but also a flat bottom. This, along with their shape, allows them to be completely self-supporting.
If you need to cover your materials, fitting tank covers are available with these open top plastic tanks.
Features:
Heavy Wall Construction
Uses One Piece of Polyethylene
Designed with an Open Top
Covers for Tank Available
Benefits:
Strong Walls for Lasting Used
Open Top for Easy Mixing
Self-Supporting
Can Handle Some Acids and Caustics
Can be used for Potable Water
Covers Available to Protect Stored Materials
Typical Plastic Tank Applications:
Chemical Storage in Industrial or Chemical Facilities
Mixing Tanks
Chemical Storage in Car Industry
Fertilizer Storage in Nurseries and Agricultural Facilities
Drinking Water Storage on Job Sites, Residential Facilities, Resorts, Hospitals, and More


Looking for Pricing on these Plastic Tanks? Check out our Web Store!

Questions? We can help! Call our team at +1-772-646-0597 or fill out our quote request form to discuss your requirements.
---