Plastic Chemical Storage Tank
Pharmaceutical Tank and Hopper
Pharmaceutical Tank and Hopper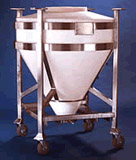 These Plastic Chemical Storage Tanks are constructed in a cone hopper design, making them perfect for processing not only pharmaceutical powders, but also chemicals and food materials.
Helping facilitate an easy mixing, processing, or temporary storage process, these hoppers are constructed with an interior that is smooth and seam-free. This leaves no area or space for stored materials to get stuck or caught up in, on their way out of the tank. Additionally, cones are made at a sixty (60) degree angle, causing liquids to flow swiftly out of the tank.
This plastic storage tank is supported with a stainless steel stand that makes storage easy. Regardless of your application, this cone tank is for you!
Features:
Polyethylene Construction
Cone Angle: 60°
Interior Surface made with Seamless Material
Comes with Stainless Steel Stand
Casters, Coloring, and Different Stands and Valves Available
Benefits:
Materials can be Removed Quickly from the Tank
No Interior Seams to Prevent Products from Leaving Tank
Can be Constructed to Your Needs
Fully Supports Items Inside Tank
Strong Stand for Handling Weight of Materials
Typical Plastic Tank Applications:
Food Processing
In-House Handling of Powders and Granules
Chemical Processing

Plastic Chemical Storage Tanks Technical Specifications (Hopper and Stand)

Capacity (gal)

Capacity
(cu. ft.)

Cone Angle

Dry Weight

Size (W x H)

180
24
60°
292
46.5 x 54.5
225
30
60°
308
46.5 x 62
Hoppers Only

Capacity (gal)

Capacity
(cu. ft.)

Cone Angle

Dry Weight

Size (W x H)

180
24
60°
75
46.5 x 54.5
225
30
60°
90
46.5 x 62

Stainless Steel Stand Included with Hopper
Options: Covers, Heavy-Duty Dollies, Casters, Stainless Steel or Plastic Valves, Multiple Colors, Stenciling, Powder Coated Steel Stand

Request a Technical Drawing

Questions? We can help! Call our team at 1-863-261-8388 or fill out our quote request form to discuss your requirements.
Customers Who Viewed This Product Also Viewed: