Plastic Mixing Tanks
Plastic Tank with Mixer for Chemicals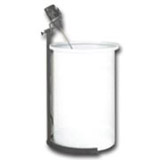 Looking for plastic mixing tanks for blending your materials? These Tank Mixers are designed to provide you with a swift, hassle-free mixing process for chemicals with a viscosity cps up to 2000.
Mixers are designed in two different models, one for small batch mixing and one for larger batch mixing. Either will provide you with 316 stainless steel shafts and propellers that will help make mixing your materials easy! To best meet your specific plastic mixing tank sizes and chemical mixing requirements, clamps for these mixers adjust to any angle.
If you're not sure which mixer model to use or you require a motor that can function in flammable conditions, please feel free to contact us! We are focused on meeting your needs and providing you with the economical solution that is right for you.
Plastic Mixing Tanks Features
CTBN 10 and 20 Models

For Drive-Small Mixing
Shafts and Propellers made of 316 Stainless Steel
Completely Enclosed Coupling
Adjusting Clamp

CTJB 10, 20, 30, 40, and 50 Models

Gear Driven at 350 Rpm
Shafts and Propellers made of 316 Stainless Steel
Shaft Angle Adjusts
Shaft Bearing Permanently Lubricated
Several Motors Available including Explosion Proof
Plastic Mixing Tanks Benefits
CTBN 10 and 20 Models

Focuses on Mixing Materials as Safely as Possible
Adjusts to Fit your Blending Requirements

CTJG 10, 20, 30, 40 and 50 Models

Power Consumption Features Match those of Best Hydro Foil Impeller Designs
Helps Prevent Motor from Overheating
Adjust to Fit Your Needs
Multiple Motors Available to Fit Flammable Environments
Typical Plastic Mixing Tank Applications
Blending of Paints and Varnishes
Mixing Polymers
Combining Dyes
Mixing Pharmaceutical Materials
Uniting of Various other Liquids

Plastic Mixing Tank Technical Specifications

CPS Viscosity
Tanks up to 50 Gallons
Tanks up to 100 Gallons
Tanks up to 200 Gallons
Tanks up to 500 Gallons
Tanks up to 1000 Gallons
Part Number
Part Number
Part Number
Part Number
Part Number
< 1
CTBN10
CTBN10
CTBN10
CTBN10
CTJG10
< 100
CTBN10
CTBN10
CTBN20
CJG10
CTJG10
< 300
CTBN10
CTBN20
CTJG10
CTJG10
CTJG20
< 500
CTBN20
CTJG10
CTJG10
CTJG10
CTJG30
< 1000
CTBN20
CTJG10
CTJG20
CTJG20
CTJG40
< 2000
CTJG10
CTJG10
CTJG30
CTJG30
CTJG51
Customers Who Viewed This Product Also Viewed:
Questions about plastic mixing tanks? We can help! Call our sales team at 1-863-261-8388 or fill out our quote request form to discuss your requirements.