Horizontal Plastic Water Tank
Water Storage High Priority Draining and Cleaning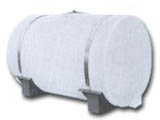 This horizontal plastic water tank is perfect for applications where draining and cleaning are a priority. The sump on the bottom offers a means for excellent cleanout. The polypropylene resin and construction boasts a long life, as the tank has high impact strength and is FDA approved for the storage of potable water. The tank is also UV stabilized to withstand outdoor weathering.
Designed for use as sprayers or transportation units, these horizontal plastic elliptical tanks include a manway, standard fittings, and saddles to accommodate storage and mobility from one area to the next.
Questions about horizontal plastic tanks? We can help! Call our team at 1-863-270-8118 or fill out our quote request form to discuss your requirements.
Horizontal Plastic Tank
Technical Specifications

Capacity
Size
(dia x L)
Manway
Standard Fittings
20
15" x 31"
5" cap
3/4" outlet
30
23" x 21"
5" cap
3/4" outlet
55
23" x 34"
5" cap
3/4" outlet
85
23" x 52"
5" cap
3/4" outlet
100
24" x 57"
8"
3/4" outlet
110
30" x 41"
8"
1 1/4" outlet w/ 1 1/4 anti vortex
150
30" x 58"
8"
1 1/4" outlet w/ 1 1/4 anti vortex
150
32" x 46"
8"
1 1/4" outlet w/ 1 1/4 anti vortex
200
32" x 62"
8"
1 1/4" outlet w/ 1 1/4 anti vortex
200
38" x 47"
8"
1 1/4" outlet w/ 1 1/4 anti vortex
300
38" x 68"
8"
1 1/4" outlet w/ 1 1/4 anti vortex
400
42" x 74"
8"
1 1/4" outlet w/ 1 1/4 anti vortex
500
48" x 75"
8"
1 1/4" outlet w/ 1 1/4 anti vortex
150 Slim Line
28" x 50"
8"
1 1/4" outlet w/ 1 1/4 anti vortex
200 Slim Line
24" x 61"
8"
1 1/4" outlet w/ 1 1/4 anti vortex
200 Slim Line
31" x 48"
8"
1 1/4" outlet w/ 1 1/4 anti vortex
Horizontal Plastic Tanks Features
Material: Polyethylene
1.5 Specific Gravity
UV Stabilized
FDA Approved for Potable Water
Polyethylene Construction
Horizontal Plastic Tanks Benefits
Long-Lasting
Durable and Versatile
Completely Drainable and Easy to Clean
Stands Up to Weathering
High Impact Strength
Horizontal Plastic Tank Applications
Water Storage
Potable Water Storage
Sprayer Tanks
Ideal Where Draining and Cleaning is Priority