Used Oil Tank
100, 150, 200, 385 Used Oil Poly Tank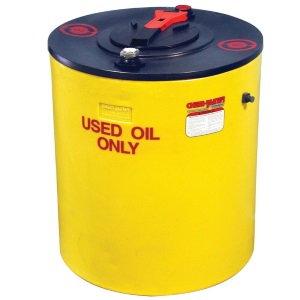 Need a safe place to store used oil? This Used Oil Tank is designed with you in mind! Made using recyclable polyethylene, these tanks offer you secondary containment in a tank that won't rust over time.
In addition to their double wall that offers 110% secondary containment, these tanks offer further safety through an oil level monitoring gauge and automatic overflow shutoff. This will allows you to track how much oil or liquid is in inside your tank at any given time, while still providing room for catching spills and leaks.
Great for use in a variety of facilities, these tanks can provide you with quality storage of hazardous materials that is safe and hassle-free.
Features:
Offers 110% Secondary Containment
Automatic Overflow Shutoff
Oil Monitoring Gauge
Contains Debris Screen and Strainer
2" External Quick-Release Drain
Meets Latest EPA Standards CFR 40-279.22
Benefits:
Provides Safety Net for Fluids
Resistant to Many Different Weather Conditions
Material Used Less Likely to Rust or Corrode
Holds up Well in Many Conditions
Helps meet Standards for Secondary Containment
Can be Cleaned with Only Soap or Water
Typical Plastic Tank Applications:
Storing Used Oil, Temporarily or for Later Use
In Automotive Shops or Service Stations
Storing Windshield Fluids or Anti-Freeze

Used Oil Tanks Technical Specifications

Capacity (gal)

Size in Inches
(dia x height)

100
35 x 41
150
34 x 49
385
64 x 42
Spill Pan
66 x 8
Spill Pan
37 x 4
Customers Who Viewed This Product Also Viewed:
Questions? We can help! Call our team at 1-863-261-8388 or fill out our quote request form to discuss your requirements.